Assalamualaikum pemirsah. Nggak heran kan gue memulai postingan ini pake salam
*efek lihat si ganteng shalat di kantor jadi pengen diimamin, hihihi*
Kata si Fhia gue nggak boleh telat lagi besok-besok. Siap boss, laksanakeun
*hela nafas lega saat deadline mulai berkurang*.
Jadi, apa nih bahan gosipan kita malam ini?
Day 15: Something or someone you can't live without because you've tried it.
And my answer is my bebeh.
First of all, let me explain this. I'm not a crackberry.
Gue juga bukan korban teknologi.
But for now, i think that bebeh make my life
lebih gampang aja. Gue bukan si banci eksis yang ngerasa nggak banget kalau nggak ngikutin tren. Menurut gue, si bebeh bikin komunikasi lebih lancar aja
*kalaupun tersendat ya sinyalnya yang bapuk*.
BBM memang penting. Koneksi internet memang penting karena gue bisa nerima dan kirim email dimanapun. Gue nggak mau munafik ya. Gue
Twitter addict
dan si bebeh juga ngemudahin gue buat iseng di twitter. Ya, gue menikmati twitter sebagai sarana pelampiasan kebosanan aja. Lagi jenuh, cek
timeline
, iseng komentar,
that's it.
Si bebeh juga ngemudahin gue buat
browsing
. Tapi, fitur yang paling gue suka adalah
Document To Go
karena gue bisa ngetik segala macam ide yang melintas di benak gue. Nggak satu dua cerpen lahir di si bebeh ini. Memang sih di handphone biasa juga bisa, tapi untuk ngetik panjang lebar, percaya deh, lebih enakan
qwerty
.
Gue ngebedain tipe pemakai bebeh jadi dua. Tipe pertama yaitu tipe yang benar-benar butuh, artinya si bebeh ngemudahin aktivitas dia. Biasanya ini orang ngisi paket yang
unlimited
. Tapi, yang make paket
lifestyle
atau apapunlah namanya yang bisanya cuma
social network
dan BBM, gue golongin ke tipe kedua, pengikut tren
*no offense ya*
.
Tapi, apa karena ini gue jadi BB
addict
? Sebenarnya nggak, karena yang gue butuhin adalah
handphone
yang bukan cuma bisa nelepon dan SMS tapi yang
connect
ke internet dan ada Word-nya, jadi gue bisa ngetik apa aja yang gue mau. *
Lumayan kan sambil nunggu kereta lanjutin draft gue?*
. Kenapa gue pilih si bebeh juga karena ya ini yang gue sanggup beli. Kalau ditanya maunya apa ya gue juga nggak mau pakai ini karena gue tahu isinya si bebeh nggak bagus-bagus amat
*kata sopannya jelek*
. Kalau ditanya maunya apa, ya gue maunya ini: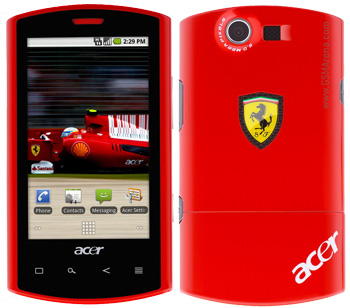 Acer Liquid E Ferrari Special Edition


Ini handphone ibaratnya mini Laptop dan
as a writer
ini ngebantu banget. Apalagi
special edition
yang Ferrari itu, sexy abis
*menunggu special edition Inter Milan*
. Tapi ya mahal banget
*nggak ada yang mau beliin ya?*.
Makanya, untuk sementara cukup bertahan sama si bebeh yang udah bapuk tapi masih berguna dan semakin tahan banting itu.
Love,
iif