PS: Tema ke-14 dalam rangka 30 stories 30 days.
When you grow older, you tend to keep your circle small. That's why, when we grow older, or when we move to another stage of life, our circle of friends probably will getting smaller and smaller.
Bekerja di media massa yang ditujukan untuk remaja, salah satu hal yang sering dirisaukan remaja adalah takut kehilangan teman. Terlebih ketika lulus sekolah. Artikel seperti 'gimana menjaga persahabatan tetap awet' dan sejenisnya paling sering ditulis.
Namun pertanyaannya, gimana kalau kenyataan membuat kita dan teman-teman lama jadi terpisah?
Ini hal yang alami dan wajar terjadi. As we grow older, we have new life and new priority, and our life is not always the same with our friends. Kita memilih jalan A, teman bisa memilih jalan B dan enggak selamanya jalan yang kita ambil sama dengan jalan yang diambil teman.
Seleksi alam, sederhananya begitu.
Dikutip dari artikel CNN ini, sebuah penelitian yang dilakukan oleh Aalto University di Finlandia dan University of Oxford di Inggris menunjukkan kecenderungan akan hal ini. Penelitian ini menunjukkan kalau ketika kita menginjak usia 25 tahun, kita cenderung akan kehilangan teman. Alasannya kita mulai fokus pada hal spesifik yang dianggap penting.
"Orang-orang mulai fokus pada hubungan tertentu dan menjaga hubungan tersebut," ujar Kunal Bhattacharya, peneliti dari Aalto University. Usia 25 merupakan usia first jobber dan masa kita sudah mulai settle dengan pekerjaan, sehingga kita mulai fokus pada orang-orang yang penting di hidup kita di masa itu dan cenderung hanya menjaga hubungan dengan orang-orang yang kita anggap penting.
"Ketika kamu sudah membuat keputusan dan menemukan orang-orang yang tepat, kehidupan sosialmu bisa jadi kacau dan lebih menginvestasikan waktumu untuk orang-orang tertentu," ujar Robin Dunbar, professor dari University of Oxford.
Menapak Kehidupan yang Lalu
Kita sudah melewati usia SD, SMP, SMA, dan kuliah. Lalu masuk ke dunia kerja. Juga ada kehidupan di luar. Sehingga dalam kehidupan kita dikeliingi oleh banyak teman.
Ketika lulus SMP, saya sempat berjarak dengan teman SMP karena lebih sering menghabiskan waktu bersama teman SMA. Saya pun dituduh 'dapat teman baru, lupa teman lama.' Saat itu, saya sempat kepikiran, apa iya saya kacang lupa kulit? Udahlah punya teman sedikit, enggak bisa maintain hubungan lagi. Sedih banget, ya?
Begitu juga ketika lulus SMA, kuliah, dan seterusnya. Makin lama, inner circle saya berkurang. Semakin lama memang semakin sedikit. Sampai akhirnya, yang benar-benar ada di inner circle saya memang orang terpilih.
Beberapa di antaranya teman yang saya temui di kehidupan sekarang. Tapi, ada juga teman yang sudah lama. Hal ini mematahkan anggapan kalau saya kacang lupa kulit, kan? He-he.
Berangkat dari penelitian di atas, kita sendiri mungkin mengalaminya. Ketika dewasa, atau pindah tempat tinggal, atau memasuki kehidupan yang baru—let's say menikah—kita sudah punya prioritas baru. Kita punya kehidupan baru, jadi kita pun cenderung lebih mengutamakan orang yang penting untuk kita.
Kalau dalam kasus saya, I tend to try minimizing drama in my life. Jadi, ketika ada teman yang menjauh dengan sendirinya, mungkin dia sudah menemukan prioritas baru dalam hidupnya, dan saya tidak ada di dalam prioritas itu. Dan, itu adalah hal yang alami. Karena saya juga tidak bisa memaksakan seseorang untuk selalu ada di hidup saya.
Akan Ada Masanya Kita Kehilangan Teman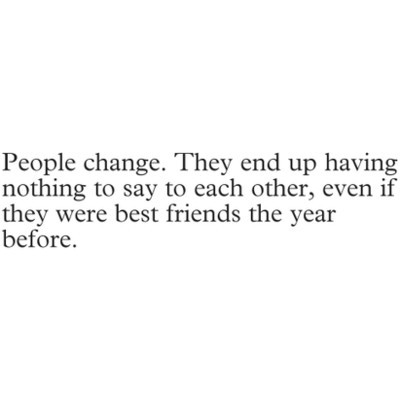 Ya, akan ada masanya kita kehilangan teman dalam hidup. Saya pernah menulis soal hal ini di cewekbanget.id (baca di sini), kalau kita akan sampai satu titik di dalam hidup di mana kita harus merelakan untuk kehilangan seorang teman.
Saya pernah mencoba untuk memaksakan diri tetap berteman for the sake of biar enggak dibilang kacang lupa kulit. Tapi yang ada juga capek sendiri karena memaksakan sesuatu.
Akhirnya, kita bisa memilih, apakah mempertahankan sesuatu yang sebenarnya tidak perlu dipertahankan, atau mencoba untuk membuat hidup kita lebih nyaman dengan mengurangi drama?
Because life is about a choice.
Aziz. Well our relationship is so funny. We know each other since high school but we not that close. We have different social circle at that time. We also go to different college. Until we graduate from high school and we realize that we have same interest; books and literacy. Then, we're be friends and he also my editor who help me publish my first book, under my one and only name.